Employee 1: Don't you think we need a chatbot?
Employee 2: Do we?
Employee 1: Well, it's trending and every other company has one.
Employee 2: Is it really that important? Do we really have the budget and resources to manage it?
If you have had this conversation with someone "You are not alone"
The pressure to stand out and be relevant in today's market is real
And so is the "shiny object syndrome"
Taking these decisions can get overwhelming and finalizing the tech stack is usually very hard
But we've got you!
Let's demystify everything Chatbot!
First, let's understand
What is conversation management?
"Conversation + Management"
Conversation is a talk between two people, just like I am talking to you...Yes, YOU!
Management is organizing anything to achieve a goal; just like I have organized this article in sections to help you understand.
When these 2 are put together they simply mean "Organizing talk between people to achieve a goal."
Now all this is great but how does one achieve conversation management in a business to get results. That's where AI came into the picture and from there emerged Chatbots.
In this article we will go through the following:
What is a chatbot?
How many types of chatbots are there?
Why do we need chatbots?
Are chatbots the solution to seamless customer service?
What is chatbot architecture?
How to build a chatbot?
Which platform to choose for building chatbots?
Why Quickwork Chat?
What is a chatbot?
A chatbot is an array of code built to perform certain actions without the need for human assistance. This is an artificial intelligence software that can chat/talk/type with you just like a human would using Natual Language Processing (NLP) as your mobile assistants like Siri or Google, through an AI-powered speaker as Alexa, as a website chat widget, and much more.
What kinds of chatbots are there?
We primarily deal with 2 types of chatbots in our daily lives:
FAQ Bot: Now do you remember chatting on a website and being presented with a list of options to choose from? Well, the options you see are nothing but frequently asked questions that the bot has been pre-fed with along with the responses. These types of chatbots are very useful to establish trust and authority as a thought leader with your customers. FAQ chatbots are a great way for a business to enhance customer experience while saving time and money on the dedicated resource to cater to these queries plus it is available 24/7.
NLP or Contextual Bot:  Now try to remember your conversation with a food delivery chatbot? Did it remember what you had ordered last? Did it ask you to just repeat your order instead of asking you to again choose from the menu? These are NLP Bots, which utilizes Machine learning (ML) and Artificial Intelligence (AI) to learn and grow with every conversation. These capabilities allow them to provide customers with a more natural and personalized experience. It's just like talking to a human agent.
Are chatbots the solution to seamless customer service?
Now contrary to popular belief chatbots/chat robots are not our enemies or going to eat up our jobs. Chatbots are not only proving to be the way to provide enhanced customer support but also cost-effective and enabling brands to build trust, retain and engage customers.
Everyone has a voice and the power to share their opinion everywhere online. Social media is now a powerful way for brands to communicate with customers. Even from pre-sales to post-sales, your customers can have a million questions on their minds, with little patience to get them resolved.
In today's complex, high-tech world, customers expect reliable, responsive customer service. In fact, according to a report by Valero, we can't afford to wait more than a minute to get answers to our questions. Automation can help you improve your customer interactions and provide customers with an immediate solution.
Automated chatbots: The solution to seamless customer service
Operational efficiency: Chatbots help in streamlining the customer service cycle and respond to customer queries in real-time. Thus reducing the call volumes and improves the TAT of customer queries.
Customer experience: 'Customer is the king'- this phrase stands true to its last letter in today's world where everything is customer-centric. And let's be honest even when we are on the other side of things we hate waiting for a response and want our queries resolved immediately and if they aren't catered to as per our schedule or as promised we either lash out on them or share negative reviews on social media.
Scale-up operations: Now imagine a turnout of even 20 customers at the same time and you have a customer support team of 5. What is this going to do? The 15 waiting in line for something super urgent are definitely not going to be happy and some of them might have a very simple query that only requires 30 seconds but since there are only 5 of you and 20 of them, they will have to wait for their turn. Now imagine having a chatbot catering to 60-70% of these queries and only the rest very critical ones being passed over to the customer support agent. This not only increases productivity but also the quality of interactions.
Chatbot architecture:
Chatbot architecture is what brings the chatbot to life. The usability and context of business operations is the deciding factor of how much architecture of the chatbot would change.
Key components of a conversational chatbot architecture:
Environment
Question and Answer System
Plugins/Components
Node Server / Traffic Server
Front-end Systems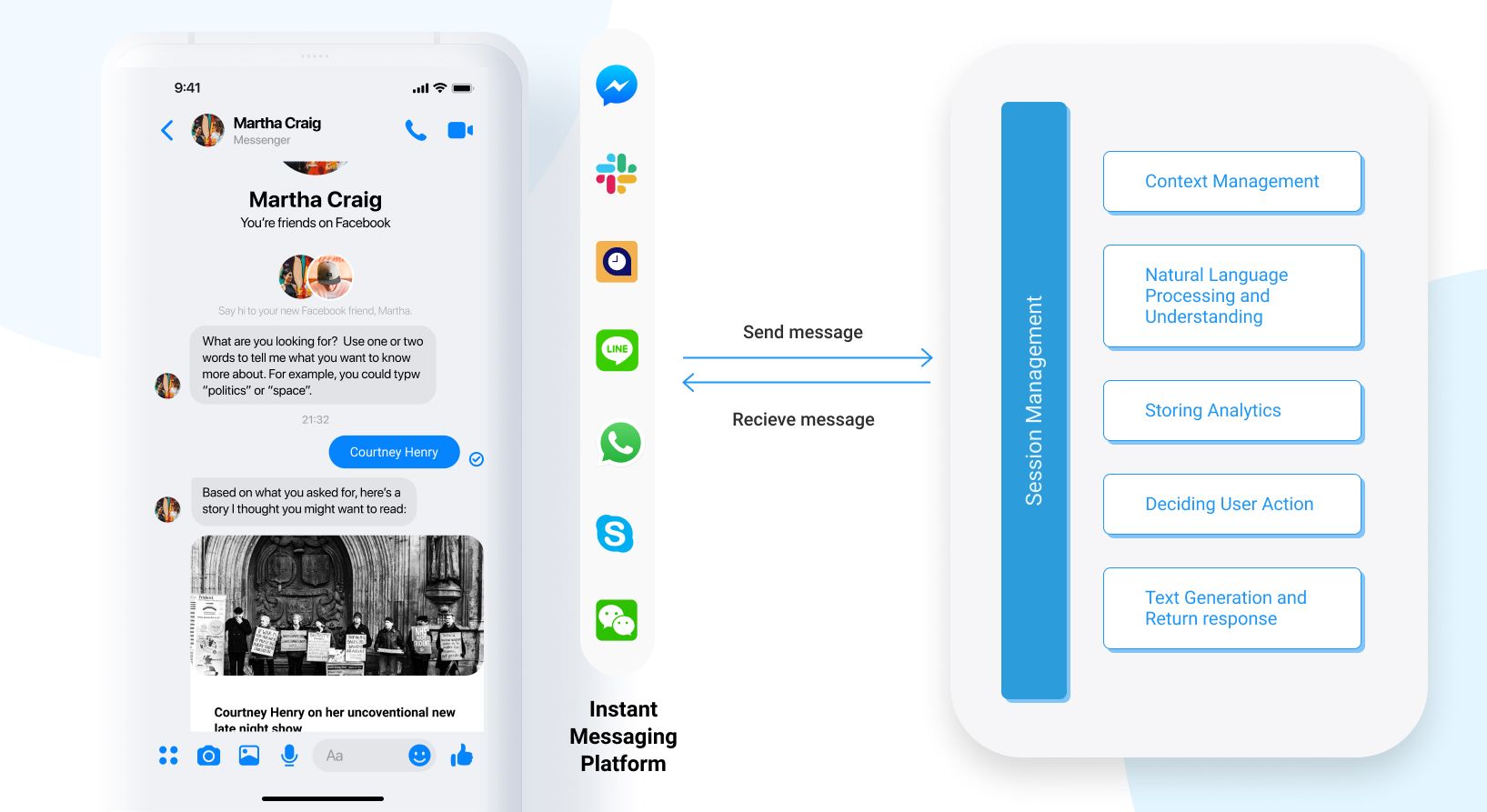 Now you might say all of this is great but how to build a chatbot? How do I know which platform to use? Isn't it expensive and when I do will not have to spend a lot of my time and effort on managing the conversations?
Let's start with the platform:
On a real-time iPaaS like Quickwork Journey Builder, you can build a workflow and connect your messaging platforms like WhatsApp, Facebook Messenger, Quickwork Chat, etc. to create any type of chatbot within no time.
Here's a demo on how to build a chatbot from scratch on WhatsApp:
You can also visit our Youtube page for more such videos on how to create a chatbot: https://www.youtube.com/c/Quickwork/
Now you must be thinking, I have built these automated chatbots how do I manage these conversations that are going to come my way, how do I assign these conversations to my human agents after I deploy these automated chatbots?
Enters, Quickwork Conversations:
Quickwork Conversations is a messaging platform that creates awesome and best-suited virtual assistants and human-agent services for you. From FAQ bots, social messaging, and quick reply bots to context enabled chatbots, Quickwork Conversations is the most reliable and efficient to serve the assistant service for your customers seamlessly.
The chatbots—multi-lingual in nature—create a live user experience and help answer queries using AI in real-time.
Quickwork Conversations features:
Introduction to Quickwork Chat GUI:
Combine Quickwork platform with Quickwork Conversations and you get a  combination of automated chatbots and a conversation manager for effective customer service.
On Quickwork platform you can build automated chatbots on messaging platforms like WhatsApp, Telegram, etc., and then connect them with Quickwork Conversations to bring in that human support that your customers need.
The Multichannel feature allows admins and agents to communicate with customers available on any of the above-mentioned messaging platforms and enables them to view all the conversations in real-time on a single dashboard.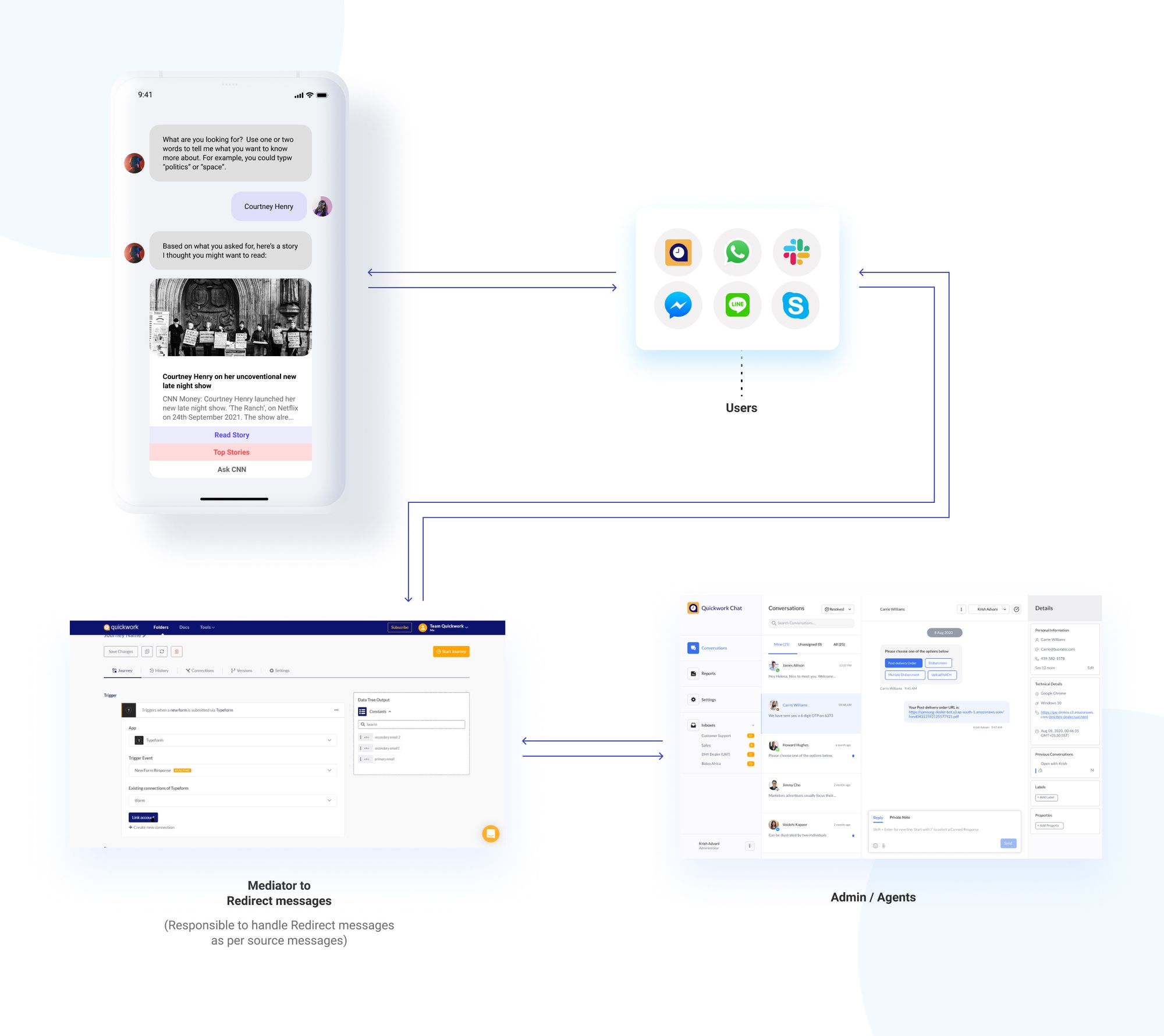 On Quickwork chat you can also build a live chat website widget and manage its conversations, Here's a quick 2-minute tutorial on how to build a chatbot for a website:
You might be more concerned about getting started than about its functioning. You don't need to worry because Quickwork provides customized solutions for companies that want to use chatbots as an automated customer service tool. With our team of experts, we can integrate your chatbot into a web portal or an app, and program it with natural language processing and natural language understanding capabilities.
Once live, the chatbots look and act as an integral part of your online business. In addition to the great visual appeal and features that Quickwork Conversations  offers, it provides a lot of value.
You can upload images, files, videos, audio, locations, and more. You can also share messages to provide customers instant answers to their questions through Quickwork Conversations messaging system. With an easy-to-use conversational interface and a bot-to-human agent hand-off feature, Quickwork Conversations makes it easy for businesses to engage customers when they need it most.
Conclusion:
Chatbots are the most modern way of communicating with customers. Using any kind of chat app, you can reach thousands of customers by speaking to them directly. How many times have you been checking the comments left on your Facebook page or Instagram? If you find yourself scrolling through pages of hateful remarks, there's a really easy way to combat them. Chatbots will even monitor your online reputation and help you to keep track of the comments you're receiving.
Keeping track of customer queries and building a reliable, seamless method for resolution is key to innovation in the field of customer service.
An integrated customer service platform provides helpful information and a smooth path for customers to explore your offerings. An intelligent customer experience can turn your customers into advocates of your products and services.
If you want to know more about chatbots and how they can help your organization don't think much just...