HubSpot is one of the leading "all-in-one marketing platforms" that help businesses of all sizes to market themselves better. It offers marketing software, email marketing software, social media marketing software, web analytics software, SEO tools, and CRM solution for business.
With the HubSpot Platform, you can build highly customized and responsive landing pages and forms to capture leads from search engines. You can also convert visitors into customers with targeted email campaigns and social media engagement.
The HubSpot platform makes it easier to implement a successful inbound marketing strategy. It also provides the tools you need to communicate with your customers, connect with them on social media, and take advantage of other online marketing channels.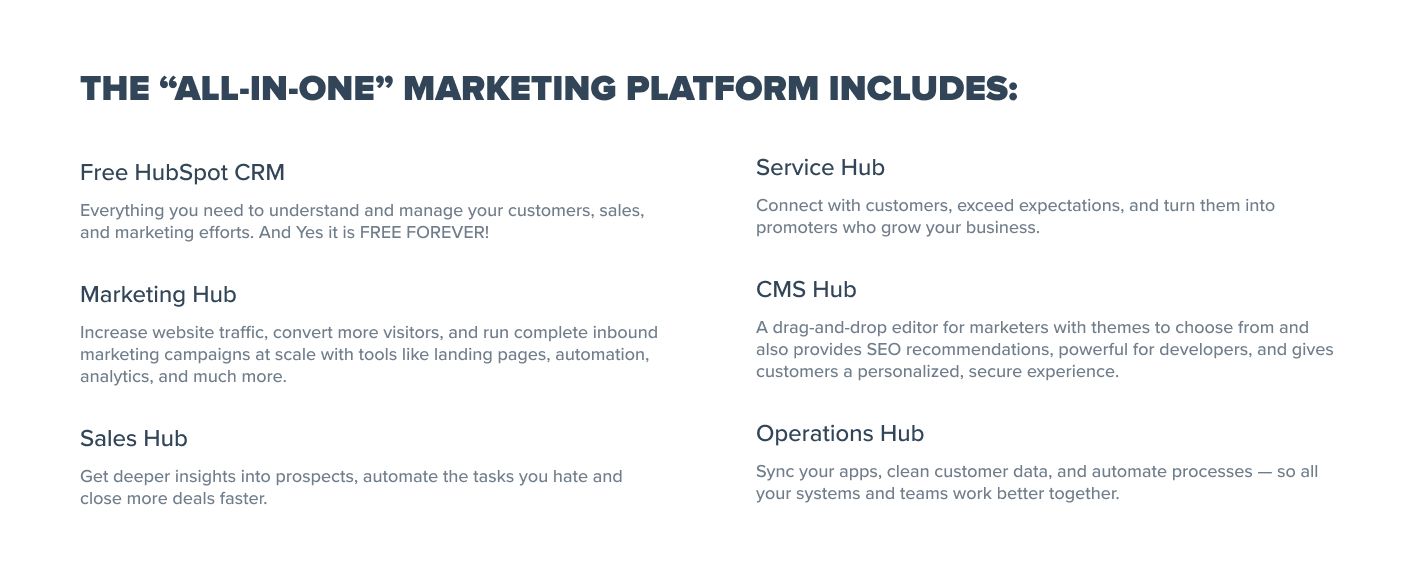 Benefits of HubSpot include, but aren't limited to, the following:
A platform to unify all communications across the customer lifecycle.
An outbound tech support hotline to provide support to your customers before, during, and after they purchase from your website.
A social media monitoring tool that helps you analyze how each social media channel is affecting your sales.
It is perfect for new and existing businesses and is a great way to help businesses improve their online marketing campaigns without having to hire an expensive web design or web development company.
It is the most effective tool available today for building online communities because it is the only platform that allows you to create a community that enables your customers to share content, engage in conversations, and even submit product reviews.
They create in-depth articles around everything a business needs helping their users and for that matter anyone everyone by providing knowledge. INBOUND MARKETING DONE RIGHT, ISN'T IT!
Pricing:
They say nothing in this world is free but contrary to that belief HubSpot has something for everyone. Check out their pricing here. (Too many products to list all the pricing here :P)
Now since HubSpot in itself is such an extensive software, what can you be missing right?
Well as they say, No matter how good, you need something or someone to complete you!
That's where you need an iPaaS platform to connect HubSpot with everything that makes your business function.
Things to look for in an iPaaS:
Real-time
Ability to connect with messaging platforms like WhatsApp, Facebook Messenger, Telegram, etc. (INBOUND MARKETING AFTERALL!)
Unlimited Connectors
API management capabilities
NO HIDDEN OR EXTRA COSTS!
Triggers and Actions of HubSpot include, but aren't limited to, the following:
What type of apps can you connect with HubSpot? Well to be honest as long there is a trigger or an action associated with HubSpot, Let your imagination flow!
Triggers:
New contact created: Triggers when new contact is created via HubSpot.
Company updated: Triggers when the company is updated via HubSpot.
New deal: Triggers when a new deal is created via HubSpot.
Record updated: Triggers when a record is updated via HubSpot.
And many more….
Actions:
Create deal: Create a new deal via HubSpot
Search companies: Find companies and their relevant information via HubSpot
List owners: Retrieve a list of owners via HubSpot
Get call engagement dispositions: Retrieve a list of call engagement dispositions via HubSpot
Get owner by ID: Retrieve the details of a specific owner via HubSpot
Get company: Retrieve the details of a company via HubSpot
Get deal associations: Get deal associations via HubSpot
Get engagements: Retrieve a list of engagements via HubSpot
And the list goes on….
Click here to check out all the triggers and actions.
In the meantime, check out these pre-built journeys that you can immediately use:
Conclusion:
HubSpot has become a one-stop-shop for many businesses, and with ever-increasing needs around integration, it has become imperative to have a tool to streamline all this information. Quickwork is one such iPaaS that not only offers a platform for connecting your business applications together to achieve results but also gives your business the ability to have a whitelabelled version of this platform to increase your product offerings and deliver everything your customer needs within no time and without too much cost.
To know more about our whitelabelled iPaaS, Schedule a Demo with our automation expert!