The Ecommerce industry is booming; customers have really taken to the online shopping experience, especially with the looming danger of Covid-19 and the guidelines which suggest staying indoors and maintaining social distancing. Many customers now prefer online shopping from their homes' comfort and safety, over physical shopping, due to its convenience and dynamic offerings.
Related Reading: What is E-commerce automation? Getting started with automating your E-commerce store
Why do we need E-commerce automation?

With the rising number of online shoppers, e-commerce businesses have had to scale their operations within a short period of time. Managing the various tasks of maintaining your website, updating your inventory, marketing, and staying in touch with customers, among many others, have become increasingly challenging.
As an online shop owner, you may have access to numerous carefully selected specialist apps that take care of everything from your inventory management and shipping processes to building and hosting your website for you. Despite having various choices for applications, ultimately, the duty of staying on top of each application still falls on your heavy shoulders.
This is where Ecommerce automation fits in.

Ecommerce automation refers to automating e-commerce applications and systems using APIs to set up a business workflow. These business workflows are created with instructions to perform certain activities exactly when needed, in the specified format and order. In simplified words, it's a set of tasks executing automatically, enabled by software, without any manual intervention required.
Automation is the future of the e-commerce industry. We live in a data-driven world, and automation helps collect, report, and analyze this data systematically. This enables businesses to understand what is working, what isn't, and what can be changed.
What are the benefits of E-commerce automation for businesses?
1) Customer engagement and service
With automation, you can send out highly personalized messages, notifications, and emails at every stage of communication. Automation also helps you connect with customers quickly and in real-time, which enables your customer service executives to provide quick solutions to their problems.

Customer segmentation helps you understand your audience better, which on a large scale means that the quality of interaction with each customer improves with time as you employ automation in your business activities.
2) Efficient order fulfilment
Losing track of orders and inventory is one of the major issues when handling shipping processes manually. With automation, you can keep track of your inventory levels, such that you get reminders for timely refills and keep track of order statuses during the entire shipping process. This streamlines all related activities to an extent where you have lesser margin for error and more room for understanding product performance, allowing you to make smarter inventory choices.
3) Reduce cart abandonment
With marketing automation, you can reel in the customers you've lost due to cart abandonment by pushing personalized offers, reminder messages, and notifications. This in turn, leads to a higher rate of sales recovery.
4) Managing multiple channels
Handling multiple applications for various business activities can be time-consuming and confusing. With automation, you can integrate all your business applications into an automated workflow and view things in one place. You can integrate your inventory management, shipping, CRM, customer service portals, and website with your email to receive updates on important tasks and never miss an update.
5) Reducing manual data entry
Keeping a record of your inventory, accounts, customers database, and feedback can be a cumbersome process. By automating these data entry processes you can save the time and energy your employees spend on such repetitive tasks. With automation, your data is automatically updated anytime a sale occurs without you having to lift a finger!
Here is the Automation Fest masterclass with the help of which you can learn and build your own automated workflows and streamline your E-commerce workload!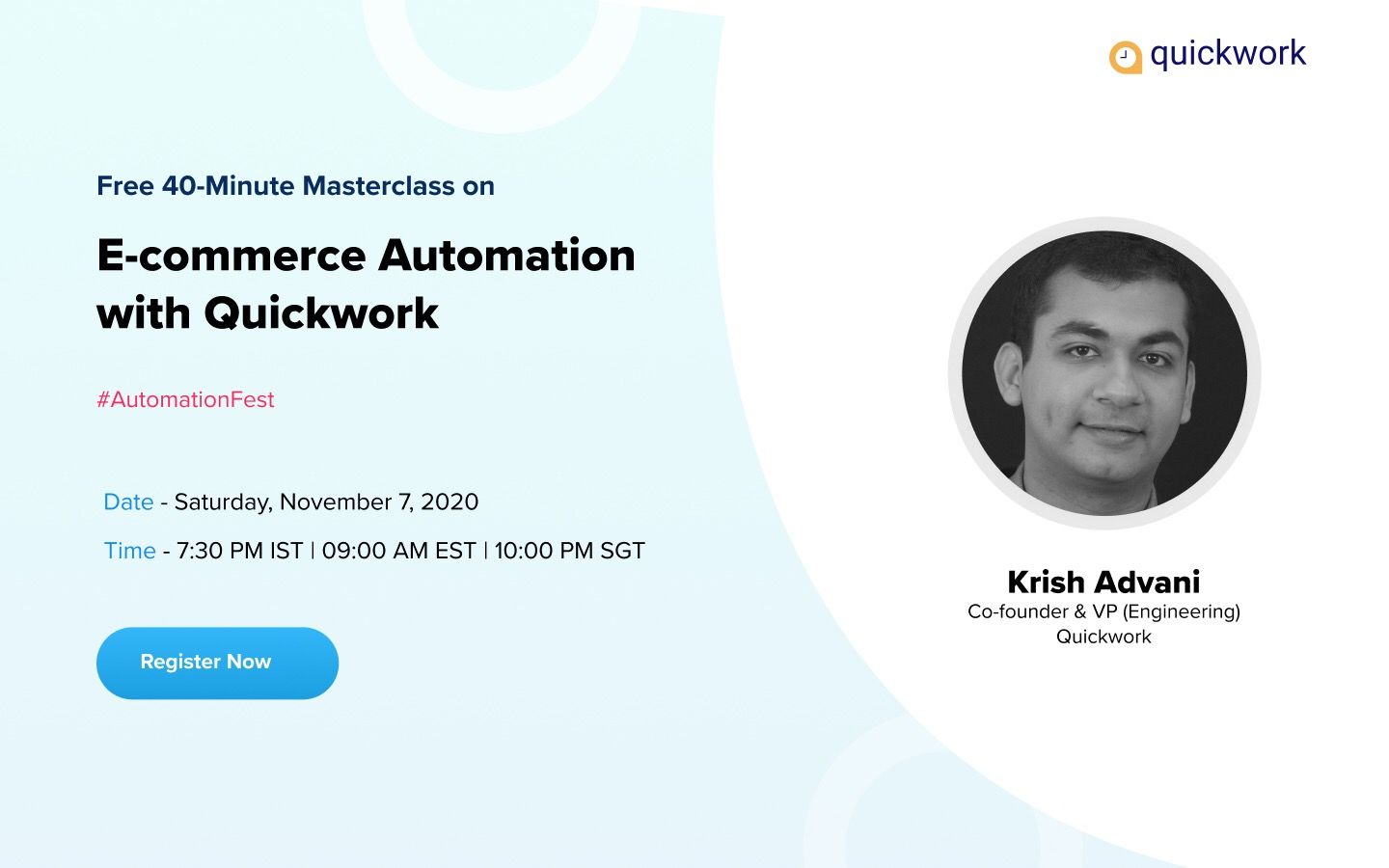 Now that you know what e-commerce automation is and how it is beneficial for your business, get started on your automation journey with Quickwork to optimize your e-commerce store!