Everyone's got their own unique way of working! While some people prefer noting things down on post- it's, others formulate to do lists on their emails or prefer scheduling it in their calendar. But when you combine multiple people's workflows the differences in each can make it easy to lose track of things, leading to missed notifications, delayed meetings and other inefficiencies.
With work from home culture on the rise, the need for a smart system to account for work transparency and order is now even more prevalent than before.
Project management applications are tools that assist you to efficiently execute your projects by allowing flexibility and features to accommodate multiple workflows in one system.
Share documents, update and assign tasks and deadlines and account for the work done and pending by employees all in one place.
However a simple search on project management apps will bring you head fast into a universe of hundreds of applications that claim to assist with project management bringing you right back to the question of; Which project management application is best for me? Continue reading and save yourself the trouble of sifting through a dozen or two applications because we've short listed three project management applications that offer the best range of free project management tools that are each best in their own way!
Choosing the right project management app for you!
Asana: Good for businesses/individuals looking for a visual tool for managing their projects.
Slack: Good for maintaining communication amongst team members and working collaboratively.
Jira: Good for robust and complex project management needs.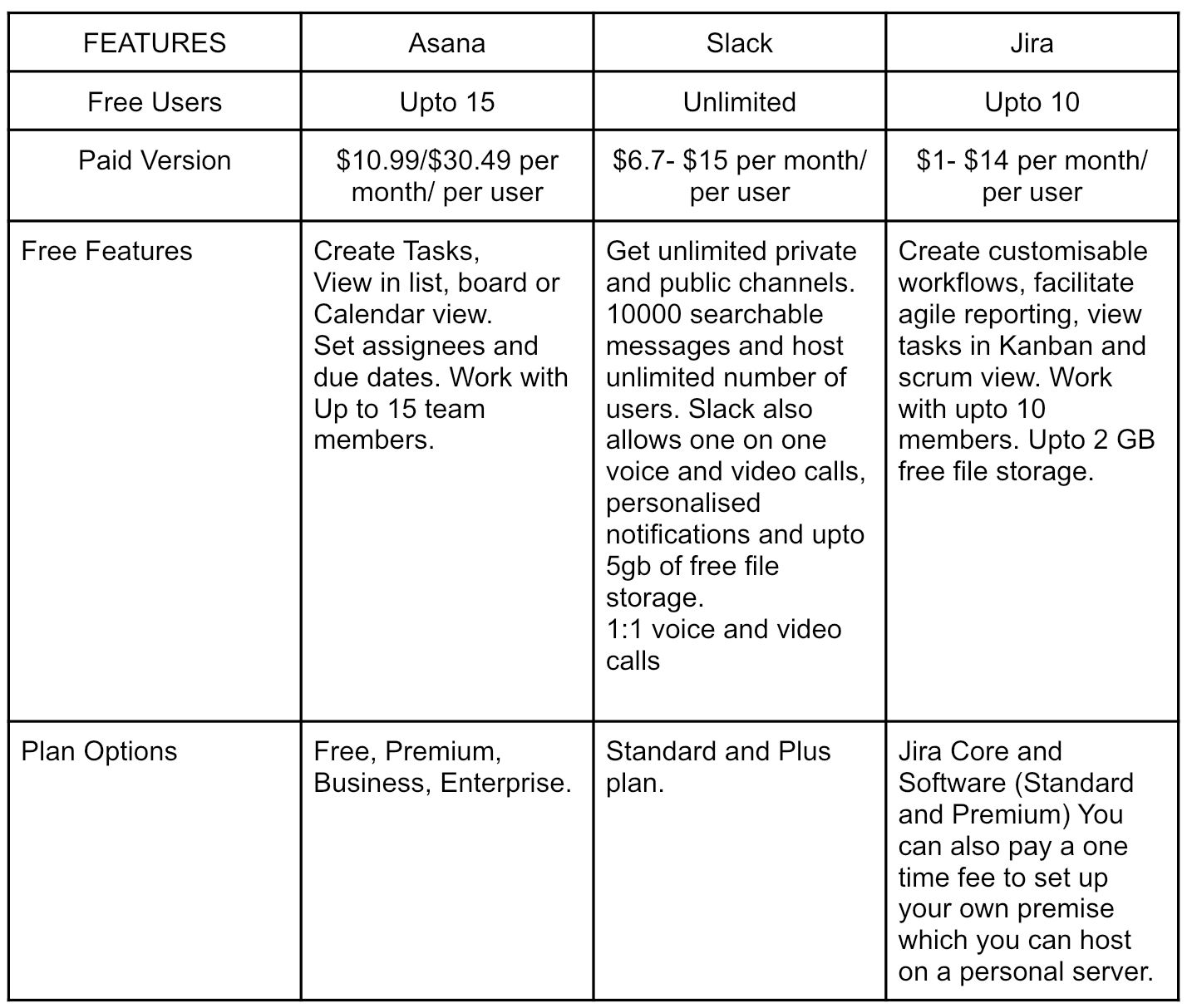 Asana is a visual project management tool. It works with a kanban board, allowing you to list tasks as cards. Information about your tasks is stored within cards, and team members can conveniently move cards across various stages based on the status of their project.
Asana offers a free plan that is ideal for individuals and small businesses. Their basic plan covers creating tasks, listing them in a list, calendar or board format. It also allows you to set deadlines and assign people to certain tasks. The free plan however misses out on the timeline view which lets you view all your tasks in different stages
Asana's paid plans offer timeline view, rules to automate your processes, the options to create sub tasks, view employee's  work in one place, forms, portfolio view and charts to view task progress.
Who is Asana ideal for?
Asana is ideal for individuals and businesses that are looking for a quick and easy project management tool. Their no frills UI makes it easy for users to quickly keep a tab on their tasks, and Asana provides all the necessary tools for keeping track of your tasks, employee wise. Asana is also ideal for growing businesses as they provide flexible plans allowing you to scale up or down based on your requirements.
Do more with Asana
The main purpose of project management apps is to simplify the lives of employees, and allow them to execute tasks better by organizing, tracking and managing their work. Integrations can help employees synchronize their work better with their project management tools, allowing them to seamlessly keep their project management tools up to date. Here are some simple automated journeys to do more with Asana:
Initially started as an application for software developers to keep track of their apps, Jira is one of the longest running project management tools in the market. Started in 2002, the application has developed and diversified into a platform capable of handling agile task requirements. Jira is built to support multiple views and analysis features to keep a track of your tasks.
Jira supports Kanban and scrum task boards, making it robust and agile towards the needs of different team members. Jira offers more extensive features as compared to its competitors, allowing for multiple options to view reports and charts.
Overall Jira's free version offers lesser user allowance, but provides users with a more extensive list of features to explore. The free version lets users take full advantage of the multiple board set up to view and organize tasks,  build customizable workflows and supports file storage allowing users to store and share documents with ease.
Jira also has an on premise one time payment plan, that allows users to build and host Jira on their own personal servers.
Who is Jira ideal for?
Jira is the most robust and agile option thrown into the mix of project management tools, while Jira offers the largest amount of flexibility and diversity in features, we'd recommend it only to people on board with a complex project management tool, as using Jira requires a bit of a learning curve. Jira is suitable for enterprises looking to use more advanced and nuanced features for reporting and assessing tasks/projects.
Do more with Jira
Jira has over 3000+ third party integrations available, this makes it the perfect tool for big companies, as it allows team members to integrate with different platforms and tools based on their needs. Here are a few integrations for Jira that can help you get more out of the platform:
GitHub: Create a new Jira issue anytime someone raises an issue on GitHub. Click here create this journey.
Freshdesk: Create a new issue in Jira anytime you receive a complaint on Freshdesk. You can also integrate this with Gmail to send users/ employees an email notification of the issue created to get their attention. Click here to create this journey.
Gmail: Create a new issue in Jira from labeled emails from Gmail. Click here to create this journey.
Unlike other platforms in our list, Slack is more of a conversational platform for task management. Slack allows you to create departmental groups, and converse with your team members/ vendors to collaborate on projects together. Slack allows for real time conversation on tasks/ project progress.
The free plan in Slack is extremely comprehensive, as it allows for unlimited users and messages to be sent across the platform. It also gives you upto 10,000 searchable messages.
Overall Slack is very different from your regular task management tools as it focuses most on communications. One of the primary reasons for inefficiencies in tasks is the lack of communication, so this platform is great for companies/ teams that need to work collaboratively on projects/ tasks regularly.
Who is Slack ideal for?
Now we would go right ahead and say that Slack is essential for small teams that internally need to coordinate a lot of tasks together. Since Slack is so different from other project management tools, using it in tandem with other project management tools might be beneficial for companies.
Do more with Slack
What Slack lacks in features that Asana or other project management tools might provide, it makes up for by the help of integrations. You can integrate Slack with other tools to combine and create a platform that is perfectly designed for your team's needs. Here are a few integrations to help you do more with Slack:
Salesforce: Integrate Slack with Salesforce and Clearbit to automatically assign a new lead to a team member. Click here to create this journey.
Airtable: Don't want to use two project management tools? Integrate Slack with Airtable and manage creating and viewing your tasks in a visual format using Airtable, automatically send a message to yourself or a team member anytime a new record is created. Click here to create this journey.
Google Calendar: Automatically update team members and send messages of upcoming meetings via a Calendar integration. Click here to create this journey.
The Final Verdict
Our final verdict would be to try out the three project management tools for yourself and compare the free versions to see which one matches your needs the best. If you find yourself looking for add on features that you feel are missing in either of the tools, look up some integrations for Jira, Slack and Asana by clicking on these links. You can also get in touch with us to know more about using automation to design project management tools to best fit your need.
It is imperative to find the correct project management app for you and your team! A tool that doesn't work for your team may end up doing more harm than good. Let us help you equip your project management with all the necessary add-ons to make it best suited for your business needs.
Related reading: What is project management automation and where does it fit into your business?