With digital revolution, the way humans interact and behave has greatly changed. The internet boom has completely revolutionized the way humans shop and perceive brands, creating a paradigm shift in the way companies market themselves.
This radical change in consumer behavior has opened up several new avenues for marketing; marketers now have multiple sources and ways to meet their audiences.
This paper explores how digital transformation can help marketers market better. By establishing what digital transformation is, the trends in marketing, the need for digital transformation, and how it can help reach audiences and drive more business returns. It also defines what marketing automation is, the several avenues it covers, and how it goes beyond just email marketing, the path to automating your marketing processes using the best workflow automation software, and the benefits. Overall the paper is a definitive guide to marketing automation divided into three parts: covering the What, Why, How of it.
What is marketing automation?
Why do I need it?
How can I implement it?
---
Table of contents

The shift in marketing
The need for digital transformation
What is marketing automation?
Debunking myths around marketing automation
Why automate?
What to/How to automate?
Benefits of marketing automation
Conclusion
The shift in marketing

Working in the world of marketing is both interesting and daunting in today's world. Audiences are consuming more content than ever. With the rise of digital, the pace at which trends come and go makes it difficult for marketers to hold audience attention. Finding new ways to grab an audience's attention and convert them to an active consumer requires tremendous creativity and insights, making marketing a challenging role.
Here are four trends that will be driving change in the face of marketing in the immediate years to come.
AI-first approach: Artificial intelligence is one of the emerging trends in technology. With more and more investment being put into artificial intelligence, AI-driven solutions will be driving marketing technology. Marketing automation software uses AI-driven tools to analyze and detect language, help navigate menus, and help manage a service. AI also provides customers personalized services and more conversational solutions.
Media analytics and data monitoring: Data is going to be driving marketing strategies and development. With most business activity happening online, the number of insights being generated can be a game-changer for businesses. Through applications and social media, brands can monitor customer needs and forecast the change in trends. Data analysis will drive marketing automation. It will make campaigns more detailed and targeted, allowing for higher ROI for brands, making generic mass campaign approaches obsolete.
The rise of voice marketing: Siri, Alexa, and Google assistant have become common words that even toddlers would recognize. With voice assistants gaining higher popularity, humans will soon shift to fully depending on voice assistants to carry out basic routine tasks. This provides marketers with a new avenue to position their ads in, and one that is still untapped. Voice marketing can be hyper-personalized, and its newness will spike user curiosity and engagement.
Social media: With social media platforms on the rise, marketers have had to shift to positioning themselves as a more conversational brand. Platforms like Instagram and Facebook are no longer just social media platforms; they drive businesses and shape e-commerce brands. With the ability to shop from the app itself and with the influencer culture, and viral culture going around, marketers have had to adapt and create a strong social media presence to engage with their audience. Consumers are more likely to buy from a brand they see regular content with and relate with; this has made brands focus a lot more on creating engaging campaigns, watching out for their brands' social image, and who they associate with. Advertisements are no longer the only way to reach your audience; with social media, brands communicate a lot more frequently with their audience, and this adds a whole new dimension of work for marketers.
The need for digital transformation
Marketing automation with best workflow automation platform is essential for companies looking to optimize their marketing solutions. From saving your staff's time to helping your sales team focus on which customers to lay their efforts on, marketing automation with best conversations management platform covers a lot more than simply automating your marketing department's repetitive tasks. It essentially allows businesses to define and analyze their goals better. Here are some key benefits of implementing marketing automation:
Reduce employee costs: Using lead nurturing and marketing campaigns, one single employee can run targeted email marketing campaigns reaching out to thousands of customers in one go, and this is just one instance of how marketing automation can help optimize your employee's time. Overall, marketing automation can help manage your employees' time better, allowing them to focus on more strategic tasks and reducing overhead costs over a period of time.
Increased revenue and sales: Marketing automation with top conversations management platform helps you up-sell, cross-sell, and follow up with your customers. Continued lead management, personalized interactions, and prioritization can help increase your return over investment as it'll increase your customer sales cycle.
Provide accountability: Marketing and sales work hand in hand. While marketing works hard on generating leads, sales teams focus on converting them to customers. This whole cycle, however, is long, and a lead passes through various touchpoints before it's converted into a customer. Marketing automation  with automated workflows software can help add accountability to this whole process, making it easier to track the process of lead nurturing and see how effective marketing campaigns are working.
Provide guided insights: Data mining is a growing trend and one that's of growing essence to marketers. The insights gathered from user data are shaping the way marketers define their campaigns. It results in more targeted efforts in delivering campaigns and also makes it easier to compare the success of these campaigns. Data defines buyer psychology and can help marketers predict trends better.
What is marketing automation?
We've spent a lot of time talking about why marketing automation is essential and the need for it, but let's take a step back; What exactly is marketing automation? Most people think of marketing automation and automatically assume it's just a fancy name for email marketing. Marketing automation isn't one marketing activity. It envelops automating a range of services related to marketing and departments that communicate with marketing. Marketing automation is a broad term; here are some of the avenues it covers:
Debunking myths around marketing automation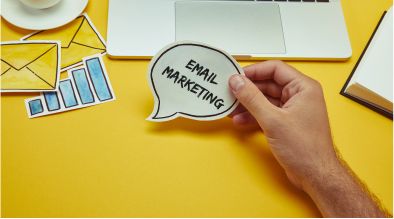 Automation can help marketers creatively keep their head over the waters when it comes to the balancing act of managing marketing. However, the rumor mill has stained the reputation of marketing automation, corrupting it with false claims and accusations.
We're here to debunk some of the marketing automation myths that might be clouding your judgment and help you understand marketing automation and how it works to help marketers.
Marketing automation is the same as email marketing: Email marketing is only one activity that falls under the umbrella of marketing automation. Ideally, any activity involving automating applications, data, and systems for the purposes of conducting marketing-related activities would fall under marketing automation. Marketing automation has several dimensions, from automating marketing collaterals to connecting different marketing applications for streamlining your workflow. You can apply automation for social media monitoring, social media listening and analytics, lead generation and nurturing, and to take care of other marketing activities as well. To believe it's confined to just email marketing can be harmful because you are then closing the door on a million marketing opportunities.
Automating my marketing process will make my brand look impersonal: Automation always builds the images of robots in our minds; that's no longer the case, however. Technology is becoming increasingly more and more personal. With developments in AI, tools like IBM Tone Analyzer can go as far as understanding human emotion and tone behind messages, whereas Natural Language Processing has made it possible to speak to technology with ease. Automation, when implemented correctly, aids the efforts of a marketing professional instead of disrupting it. Its aim is to assist human efforts and not eradicate the need for humans overall. Marketing automation with workflow management platform simply assists by providing a more organized structure and flow to your workflow by taking over routine tasks.
Marketing automation is just for marketing: Marketing as a department never works solo; they work alongside sales and other departments to create successful campaigns aligned with the company's goals. Marketing automation makes working collaboratively easier! Connecting sales applications along with marketing tools allows for seamless transferring of data, lead prioritization, and lead nurturing.
Marketing automation is difficult and expensive: Automation is high tech and fancy, but that doesn't mean it's complicated or expensive to set up. With APIs, connecting applications has never been easier. Using a no-code automation platform like the Quickwork Automation platform has set up automated workflows in a matter of minutes, plus we offer a free plan that allows you to explore the possibilities freely.
Why automate?
With automation, you can put most of your administrative and routine marketing tasks on autopilot, allowing you as a marketer to focus on the more creative and strategic parts of your job.
Don't just take our word for it though, here are ten facts that prove that automation can help optimize your marketing efforts:
A study conducted revealed that 53% of B2B businesses use marketing automation.
Marketing automation isn't new, but its advantages are being more and more recognized, and it is growing. According to this study, more than half the people use marketing automation, and only 10% have reservations against using marketing automation.

75% of those surveyed added marketing automation to their business in less than six months.
One of the biggest myths associated with automation is that it's complicated and expensive. In reality, you can set up marketing automation in minutes with the help of APIs and integration. There are a lot of specialist marketing tools and applications that allow you to focus on individual areas of marketing; integrating these helps in saving time and effort by seamlessly transferring data and executing actions.

58% of marketers use marketing automation for upselling
Upselling is the practice of selling your customers a more premium product/service. Ideally, this can be done pre, during, and post-sale. Marketing automation enables you to create personalized email campaigns post-purchase by targeting your customers based on the buying history and website interactions.

One of the most suitable forms of marketing automation is social media scheduling.
You may have thought that email marketing is the most suitable form of marketing automation; however, marketers have found scheduling their social media posts the most beneficial use case for automation. Being consistent with your social media is important. Marketers can often lose track of time and forget to post; scheduling allows marketers to deal with all their posts in one sitting. Saving them time and making them more consistent. Email marketing is still more popular and widely used.

Marketing automation has shown to boost productivity by 20%
A study conducted by Nucleus revealed that the benefits of marketing automation go beyond just lead conversion. Marketers reported increased productivity of up to 20%. This is because automation helps in reducing the routine tasks and assists in providing a structured approach to execute marketing plans by connecting tasks and providing single view access.

Companies have found increased productivity in sales by 14.5% after using marketing automation tools.
Marketing and sales work hand in hand; ultimately, the efforts of marketing are to help bring more qualitative leads to the sales team via awareness and promotions. With marketing automation, marketers are able to redirect their leads automatically; they're also able to identify the type of leads they're getting in. Not only does automation boost sales productivity, but it also reduces the amount of money spent by marketers; a study has found a drop in overhead costs by 12.2%.

Chatbots can help reduce customer support costs by 30%.
Customers love a quick solution; the costs of providing round-the-clock personnel assistance to your customers are increasingly high, and as your customers increase, so does your wait time. Chatbots act as a great line of support for providing assistance. Studies have found that people would rather receive support over text than call, and with chatbots, you can automate most of the frequently asked questions and redirect customers to product pages and solutions on your website itself.

Marketers have found that custom workflows work better than ready ones when it comes to automation.
Each business has its own unique marketing strategy, more so each marketer has his/her preference of applications and way of working. Automations main purpose is to simplify your workflow and help you save time, and this is best achieved when the automation is designed keeping in mind your needs and objectives. This is where APIs can help. You can connect multiple applications and integrate all your work while having different workflows for team members to ensure everyone's needs and comfort is being met. You can basically add more diversity to your workflows with automation.

Automated emails can make up for 21% of your marketing revenue.
According to research, automated emails can help in sending more relevant emails, and with the option to set up drip campaigns, it can help increase the reply rate by 250% through regular follow-ups and automated outreach. Statistically, they also have higher response and click rate than regular newsletters.
36% of marketers realized the value of using marketing automation in less than six months.
From analyzing your data to helping you collate and prepare reports faster, to scheduling your routine tasks, and help you target your audiences better, marketing automation has a lot of avenues, and successfully identifying your needs and designing automated workflows by using relevant applications can help you realize the value behind automation.
What to/How to automate?
Digital transformation is the need of the hour, but where do I start? Marketing automation isn't just picking out a bunch of applications and expecting them to work for you. You need to establish your work; by outlining your tasks, goals, and other conditions in order to let automation do the work for you.
Let's begin with establishing do you need to automate? Here's a checklist to help you figure out whether or not you require marketing automation:
Your sales cycle is long and complicated, involving a lot of back and forth between marketing and sales.
You have several interactions with your consumers, trying to help them understand and find the right fit for your product/service.
Your marketing and sales team has difficulty keeping track of all the customers.
You want to plan better before executing your campaigns.
You're struggling to measure the effectiveness of your marketing activities.
If you've answered Yes to any of these questions, you have your answer! You need automation, and the questions you've answered Yes to can help narrow down the areas you should start automating with.
What to automate?
Marketing automation can be divided into various segments; deciding what to automate is the easiest once you've decided your purpose/need for automation. Here are tasks you can automate using marketing automation:
Inbound marketing tasks: As a general rule of thumb, whenever you think of automation, think back to the tasks that are taking up most of your time. More often than not, you'll realize that these tasks are repetitive in nature and can be easily automated. For instance, marketers have several inbound tasks that can take up a significant portion of their day when added up. Tasks like; saving and sharing social media posts, resizing marketing assets, keyword research, and more can be easily automated using marketing specialist tools and applications.
Lead segmentation: Filtering leads until after you're in conversation with them often causes delay. It's much more effective to segment leads as soon as they come in, so your strategy can be more targeted to their needs. Automating lead segmentation makes sense as it helps filter out leads in a more timely and accurate fashion.
Customer service: With the help of AI, chatbots, and instant messaging, marketing teams can build fully automated chatbots that provide customers with end-to-end service. Automation also helps solve customer queries faster, allowing for repeat customers, higher retention, and an overall increase in quality of service.
Reports and analysis: Data is the key turning point in the way marketing strategies are designed. Utilizing data efficiently can generate higher ROI over time. This is a key area where automation can be applied to generate reports regularly and optimize performance.
How to automate?
There are several specialist applications in the market that can help consumers automate their individual marketing tasks with ease. The key to seamless automation, however, lies in connecting the entire app universe with your business's systems and data to create a holistic single-view access to work. How exactly does one do that? With the help of APIs and integration, of course.
APIs or application programming interfaces are app intermediaries that allow two or more applications/systems to converse with each other. Take an example of two mobile phones, think of your phone network as the API. You're able to call from one phone to another because you both have network providers on your mobile phone. Similarly, one application is able to interact with another one simply because both have APIs, and like network providers, you have API management providers. SaaS services like Quickwork have API management platforms that make it easy for companies to automate their services without requiring any prior knowledge of coding.
Quickwork offers a no-code automation platform with a huge library of pre-integrated applications ready to automate. What does this mean? This means that you can simply drag and drop applications you use to create automation in a matter of minutes!
Here are some active marketing use cases that you can build in no time using Quickworks easy to use platform!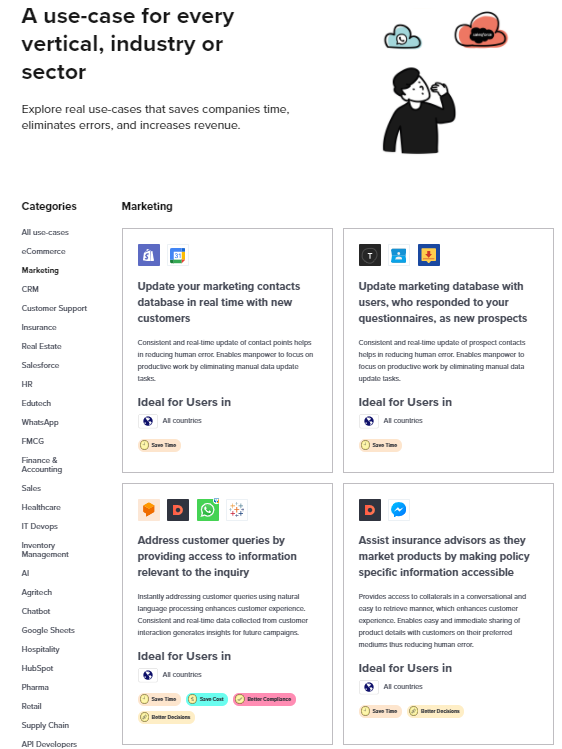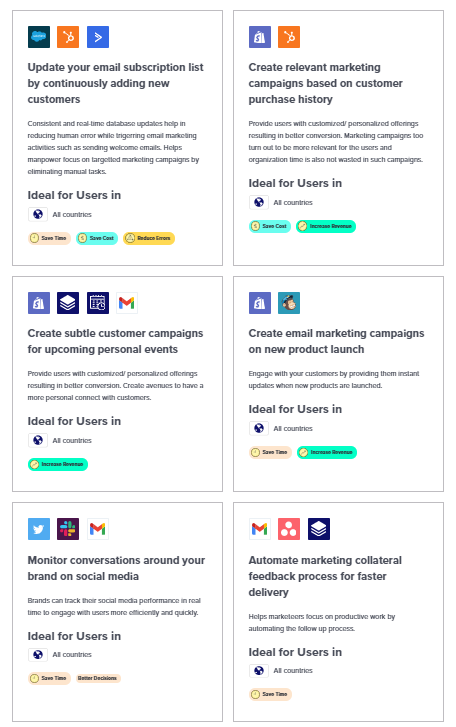 For more specific use cases, get in touch with us to know more.
Benefits of marketing automation
The whole purpose of marketing automation is to streamline the way you work. Marketing automation, when designed and implemented correctly, can do wonders for your business. Here are five major benefits of using marketing automation:
Save time: Spend more time focusing on strategies and less on routine tasks. With automation taking care of most of your administrative duties, marketers have more time to focus on their creative roles.
Scale with ease: With APIs, scaling your marketing automation as your requirements increase is a simple process. One which does not require high operational costs or testing/infrastructural challenges to execute. Since existing applications are being used, marketers can easily customize and scale up or down their operations based on their needs.
Work collaboratively: Marketing as a department never works alone; marketing efforts are ultimately passed onto the sales teams to lock-in. Automation can help marketers connect better with their sales teams. Adding this seamless flow of data between the two departments helps in creating a strengthened, smooth relationship.
Add accountability: Marketing activities should be easily measurable. Use automation to set up parameters that automatically show/track the progress of different projects, employees, and ad campaigns. Know exactly how well your sales are doing. With integration, a more data-driven approach can be taken to understanding your sales, which will then lead to a more qualitative approach towards nurturing it; this helps you segment your audience and define a more measurable target audience.
Deliver a personalized customer experience: Keeping up with current leads while finding new ones isn't an easy task. Reselling and upselling to your current leads speaks volumes of your sales performance. With automation, you can keep in touch with your current leads without putting a heavy strain on your workload. Automate reminders to your leads for subscription plans, send customized deals and offers based on special occasions.
Conclusion
Digital transformation has been the buzz around all businesses this year, especially given the change brought on with the pandemic. Most businesses have shifted to selling through digital and are working on expanding their online presence, but doesn't working manually towards a digital goal just sound wrong to you?
The fact that it's time-consuming, expensive, and leads to more time being spent on administrative rather than strategic work is enough to bother any salesperson, but it doesn't end there. The opportunity cost of all the added analytics and insights a salesperson loses out on by not automating is the real nail in the coffin.
Marketing automation is a great way to bring structure and support to your marketing operations. It streamlines all your applications, connects your data, and allows you to work with single-view access. These tools also take over your routine tasks, allowing marketers more time to focus on making the creative calls that define their campaigns. At the end of the day, a marketer will need his/her ideas and creative judgment to lead their marketing department. Marketing automation will just aid in presenting a clearer picture of the facts, better insights, and analytics and assist in taking care of the daily workflow.  
Quickworks' no-code automation platform allows marketers to automate with ease. Our focus remains to provide a scalable, streamlined and customizable workflow/journey model on our platform for your business using the 3 Aces of Digital Transformation - Automation, Artificial Intelligence, and Analytics. With users in more than 100+ countries, we have helped businesses save more than 30% of their time with automation. Some of these tasks that could save time include generating sales leads, customer support, approving paperwork, and processing documents.
If you are looking out for a seamless solution to augment your technology growth without spending too much money, check our zero or low-code automation platform. Get in touch with us to schedule a demo and get started on your journey with marketing automation.