With the boom of e-commerce, the most important aspect of after sales customer service is keeping the customer informed about their orders. All customers, irrespective of what kind of products they have purchased, are interested to know where their purchases are at all times and when they are going to be delivered.
A Bangalore based company understood the need of sending regular updates for all orders placed via their Shopify website. The company wanted to automate the process of sending order details in the form of WhatsApp message notifications to their customers, right from when the order is placed successfully to the delivery.
Why should order notifications be automated?
With orders coming in from a wide variety of channels, it is difficult to monitor the status of various orders from different ordering platforms. Being able to track the delivery of online purchases is a time consuming and continuous activity. Relying on processes that need to be performed manually, especially when data has to be collected from various sources for the different stages in the order life cycle, can have a significant impact on the organization.
If customers are not provided with enough information about their order, it makes them anxious and they contact the customer care, either via chat or call. Companies with large user bases will find it extremely inconvenient to have a large burden on their customer care executives to provide customers information that can be simply sent as an automated notification.
Additionally, in this day and age when technology is so deeply ingrained into our lives, it has become a part of basic expectations that customers receive notifications for successful placement of their order, order dispatch as well as delivery attempts and success. With the rise of e-commerce giants where the majority of online orders are placed, it is of utmost importance that companies ensure order notifications are incorporated into their own online shopping websites.
How was the automation of notifications incorporated for the company?
To provide order details to customers in a convenient manner, Quickwork helped the company set up an automated WhatsApp message notifications system.

When a customer placed an order via the company's Shopify website, they would receive a message notification via WhatsApp confirming that the order has been placed successfully. The message contains details such as order id, product name and product quantity, which allow the customer to verify if they have placed the order correctly as per their requirement.

When the product is dispatched, the customer receives another message notification on WhatsApp confirming that the product has been shipped. The message contains details in the form of order id, so the customer can identify which order is being referred to, in case they have placed multiple orders at the same time. The message also contains a link to track the package on the delivery partner's website.

Since all updates are sent from the same WhatsApp account, the customer can find all notifications in the same chat window with ease, avoiding any confusion.

In case the customer has any specific queries that are not addressed by the information in the notifications, they can use the Contact Us option included in every message, to speak to a customer care representative.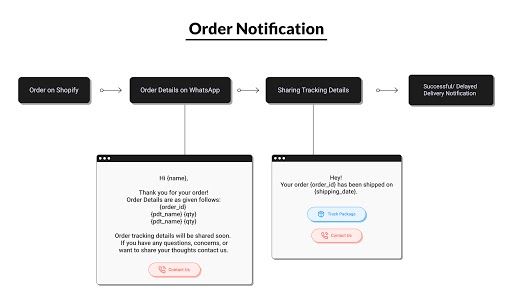 What advantages did automation of order notifications provide?
Companies that keep customers in the loop about the various stages their order goes through, create goodwill and reap the rewards of repeat purchases. Since customers are kept constantly informed about their purchases, it creates a feeling of trust for the brand and leads to increased customer loyalty.
Automating the process of sending such notifications is a one time integration activity, after which the company can focus its resources towards more significant business requirements. Since these automated notifications use templatized messages, it reduces the chances of errors in communication. Also, with 100% visibility of important order details and updates, critical information can be conveyed easily and decisions can be made faster.
Now that you know how automation of your business activities can help you save time and utilize your resources efficiently, get in touch with Quickwork to apply the same for your business!