Time is equal to money in the life of a salesperson, yet most of their time is spent tied up with logistical and administrative tasks like organising the paper trail for each lead, updating records and setting meetings. These tasks as crucial as they are, can become very time consuming and end up taking up a giant chunk of a salesperson's time each day.
With automation you can put these time consuming tasks on auto-pilot, and spend more time focusing on pitching and procuring new leads.
Three, 5 minute automations that can help you streamline your sales process
When we think of automation, our mind automatically jumps to very technical and complicated or long term solutions. What if we told you this was a misconception and there are automation solutions that you can set up in under 5 minutes! Better yet, we'll give you the details right here, and you can go ahead and try these out for yourself:
Facebook Leads- Salesforce: Think about the amount of time you would be saving if you didn't have to sit and record each lead you've captured in your CRM software! With integration and APIs this is very much possible and easy to implement. Simply integrate an application that you receive leads from, take for instance Facebook Leads here, with your CRM app like Salesforce.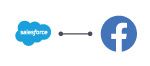 Steps to integrate Facebook Leads with Salesforce
Authenticate: Verify your credentials and set up your details for both the applications in Quickwork iPaaS !
Set a Trigger: Select Facebook Leads and set a Trigger for anytime you receive a new lead.
Set an Action: Select Salesforce and set an action, to create a new lead anytime Facebook leads generates a Lead.
Test out your Journey: Once you've done this, you can test out your Journey, you will automatically receive all your new leads from Facebook in Salesforce, successfully automating the process of recording all future leads!
2. Sending onboarding mails to new customers: Automate the routine    emails you send out, like welcome/introductory mails sent to new customers after they come on board. Integrate Salesforce with Gmail and, and automate the process of sending the first mail, the moment a new lead is created.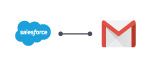 Steps to set up this journey
Authenticate: Verify your credentials and set up your details for both applications on Quickwork platform.
Set a Trigger: Choose Salesforce, and set creating new contacts as a Trigger. This will kick off your automation anytime a new contact is created.
Set an Action: Choose Gmail and set a resulting action like find and send email. Your resulting action is the response to the trigger.
Test out your Journey: Your Journey is now ready to be put into action. This means all your future contacts will receive a welcome email from your email account automatically when they're added to your Salesforce.
3. Updating your events on your task manager: As a salesperson you're constantly required to communicate with people, be it meetings with leads, team members or existing customers, your day is filled with calls and meetings. Managing your schedule and keeping your team updated about your day constantly can become time consuming. Automate this task by integrating Google Calendar with Slack, and update your Slack channel with new meetings anytime an event is added in Calendar.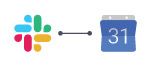 Steps to set up this Journey
Authenticate: Verify your credentials and set up details for both applications on Quickwork platform.
Set a Trigger: Select Google Calendar and set a trigger, for anytime a new event is created.
Set an Action: Select Slack and set updating Slack channel as the resulting action. This means that anytime a new event is created in Calendar, it will trigger Slack to create a new channel.
Test out your Journey: Follow these steps and you're ready to kick start your Journey. Create a new event and watch how Slack automatically updates everyone by creating a new channel, saving you the time of ever having to update new events in Slack in the future.
Building automated journeys to streamline sales
The Quickwork iPaaS is a no code platform, that allows you to easily connect different applications and build Journeys simply. These journeys can help you automate routine tasks in your everyday life, essentially helping you stay more organised, efficient and productive. You can try out the Journeys listed above to see how simple it is to get started with automation! Once you've checked these out, you can continue to experiment with different combinations of triggers and actions between different applications to build your own Journeys!
Get in touch with us to know more about streamlining your sales process, building Journeys and getting started with automation!