We live in a digital world, one that social media has taken by storm. Humans spend hours daily scrolling through social media apps, and these apps, in turn, have gone way beyond being a means of just connecting with friends and family. Social media apps have helped bridge the gap between businesses, celebrities and consumers. Social media apps allow consumers to connect virtually with any person/platform via their posts, stories and collections providing an engaging and immersive layer of communication to a consumer's daily lives.
A broadband search study revealed that consumers spend roughly two and a half hours daily on social media. A typical human uses social media as an  escape from work/study.Social media has become an inevitable digital necessity in this generation and it's an essential platform for marketing any business let alone a business that thrives on digital. Having a presence on these platforms isn't enough to create a strong brand for your e-business, to make the most out of social media, e-businesses need to integrate properly with these platforms.
Going from e-business to a brand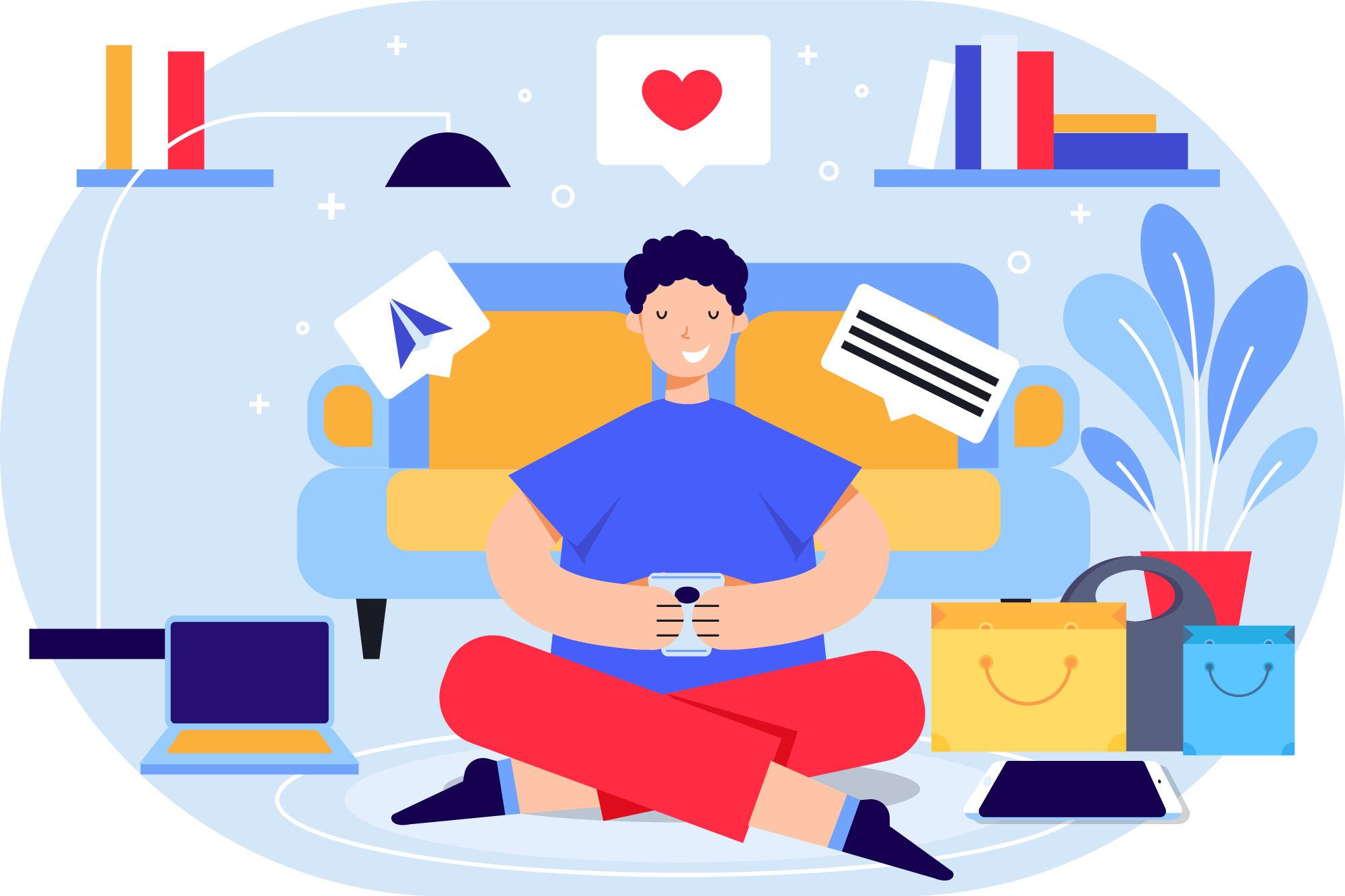 The access to alternatives available for customers has led to customers becoming more brand aware and conscious, it takes multiple interactions for consumers to turn into customers and increasing your interaction with them is the guaranteed way of increasing sales. Since your customers are already on social media, harnessing this platform to engage with them can help your e-business grow to a brand they follow and want to be associated with beyond a single purchase. Here's how integrating social media can help your e-business achieve brand status.

Social Media buttons: Starting with obvious but essential tips like adding your social media handles on your e-commerce website so that your customers can easily follow you with the help of a click.
Adding your social media feed: Integrate your social media platforms onto your website, so that your customers can preview the content you have in store on your website itself. Pin your tweets on your website, or provide a wall to scan your brand's Instagram page to display the voice of your business.
Creating user generated content (UGC): Create hashtags that are unique to your business take brands like Benefit cosmetics and Forever21 for example. They are successfully getting users to create content for them by creating a hashtag and asking customers to share it, with integration you have the power to track whenever someone uses branded hashtags, get an alert and use their content for promotions on your brand pages, you can curate UGC and display it on your social media profiles and website to encourage this further. Integrate apps to reward your users for creating content for your e-business by providing them coverage, exclusive deals and offers and access to early releases of your products via exclusive mailing lists. You can amplify this further by promoting the branded hashtags on your e-commerce site as well.
Create shoppable posts: If you notice, customers are very quick to comment or message directly requesting the price and availability of products they see on your feed. It's easy to miss out on these leads and lose business hence it's essential to automate this process by creating shoppable posts. This feature allows you to link your Instagram along with your website, to directly lead customers to the website when they see a product they like on your feed. You can add a chatbot to respond instantly to customer comments on your Facebook page. You can also analyze the comments or feedback on your social media assets using an Artificial Intelligence service like IBM Watson which can help you to classify the comments or feedback as per the tone or sentiment of the comment.
Live messenger chatbots: You might not be available 24/7 but that doesn't stop your consumer from shopping. People prefer to shop at their convenience, automation can help you engage with consumers in real-time even in your offline hours. Create interactive chatbots on platforms like Facebook that drive traffic to your website, integrate features and catalogues from your e-business to drive sales.
Creating templates for customers: As customers, we love reading feedback to guarantee the quality of the products we're considering to buy, however writing these reviews is often seen as time-consuming and a lot of effort hence you miss out on a good collection of reviews and honest feedback. Create templates of pre-written reviews on your website and integrate them with social media apps, this allows customers to share positive reviews on their social media with one simple click.
Promoting your e-business on social media:  Integration works both ways and now that we've discussed a few ways of integrating social media onto your e-business, it's time to take a look at how you can integrate your website onto social platforms. Integrate product links of your website to create a board on Pinterest, integrate all your social media apps to directly share and publish the content created on your website to ensure that your followers are aware of important updates, product releases and actions that your e-business takes.
The possibilities that the integration of social media with your e-business brings are endless. Integrating the two is essential in ensuring success when it comes to creating an engaging marketing strategy. Your consumers are on social media and integration provides you with an opportunity to chat with your leads as opposed to chasing them. While social media apps each have their own benefits and set of values they add to your business they shouldn't be looked at separately anymore.
Integration can help you create a single window for your consumers to access information, with the right steps you can find your audience, create a voice for your e-business and communicate with them to form a successful e-business that exists beyond your website.
Get social and contact us to know about integration to build a journey that will help you build your brand.