Technology has been shaping the future of businesses rapidly by increasing possibilities and availability. For every business, it is essential to have a strong core IT team to help scale the business infrastructure. While IT teams have a large responsibility of navigating the organization's technology planning and implementation, they are usually bogged down by a backlog of administrative and manual tasks.
According to Gartner's IT automation predictions for 2021, by 2024, organizations will lower operational costs by 30% by combining automation technologies with redesigned operational processes.
Automation can enable IT teams to navigate repetitive tasks and reduce manual intervention, which allows your IT personnel to focus on more strategic activities and resolve issues faster.
What is IT automation?
IT automation refers to the process of building systems and softwares that can replace manual processes and execute tasks with minimal human intervention. It expedites the delivery of IT projects and applications by automating activities that previously occupied the team members. With IT automation, softwares can be set up with specific instructions, processes and policies that save time and free up IT staff for more strategic work.
With the rising popularity of cloud services and virtual networks which require complex application provisioning, an automation plan helps IT teams deliver services with improved speed and compliant security measures. Automation also ensures that IT environments can scale quickly with fewer errors while being customized to the business' needs. An automated and agile software development process can reduce the time spent on software testing as well as deliver production-ready resources in days instead of weeks.
How can IT automation accelerate problem solving and save costs?
Automated ticket triaging
Ticket triaging is the process of filtering through all tickets raised, tagging them based on urgency and type and then assigning them to a personnel to be resolved. IT teams most commonly deal with tickets related to issues and errors in softwares and configurational set ups. Automating this process to assign tickets based on the type of error and their corresponding SPOC ensures that the allocation does not need to be done manually.
Additionally, by using AI trained systems, you can automate this process by using past the tickets database for training. This helps in identifying trends with upcoming issues and resolving them in a batch instead of individual related issues being assigned to multiple employees. This ensures faster and smarter allocation and saves time spent organizing, allowing IT teams to attend to errors affecting products faster.
Automating resource allocation during employee onboarding
The process of initiating a new employee and signing off an ex employee is always a joint responsibility for HR and IT teams. Since the process is highly repetitive in nature, it can be automated easily.
With automation, you can begin the employee onboarding process electronically before your new employee starts. This saves time so that your new hire can spend their first few days on introductions, training and other face-to-face activities instead of doing paperwork.
How we did it?
Quickwork has enabled a leading microfinance institution to reduce onboarding time for its new employees by designing an onboarding chatbot using Facebook Messenger.
The implemented solution ensures that a new recruit receives an introductory email which provides him access to the onboarding bot.
The recruit then fills up the details in an online form and also uploads identity documents and photographs.
On submission, a review task is created for the Head Office, to review all the fields and submitted documents for correctness.
In case of any doubts, the reviewer can mark them in the application and a notification will be sent to the recruit, who can then correct the marked fields and submit them for review.
On successful review, the chatbot creates an employee ID in the core HRMS system. Additionally, statutory documents would be prefilled with the data given for the employee, which reduces duplication when having to fill those forms.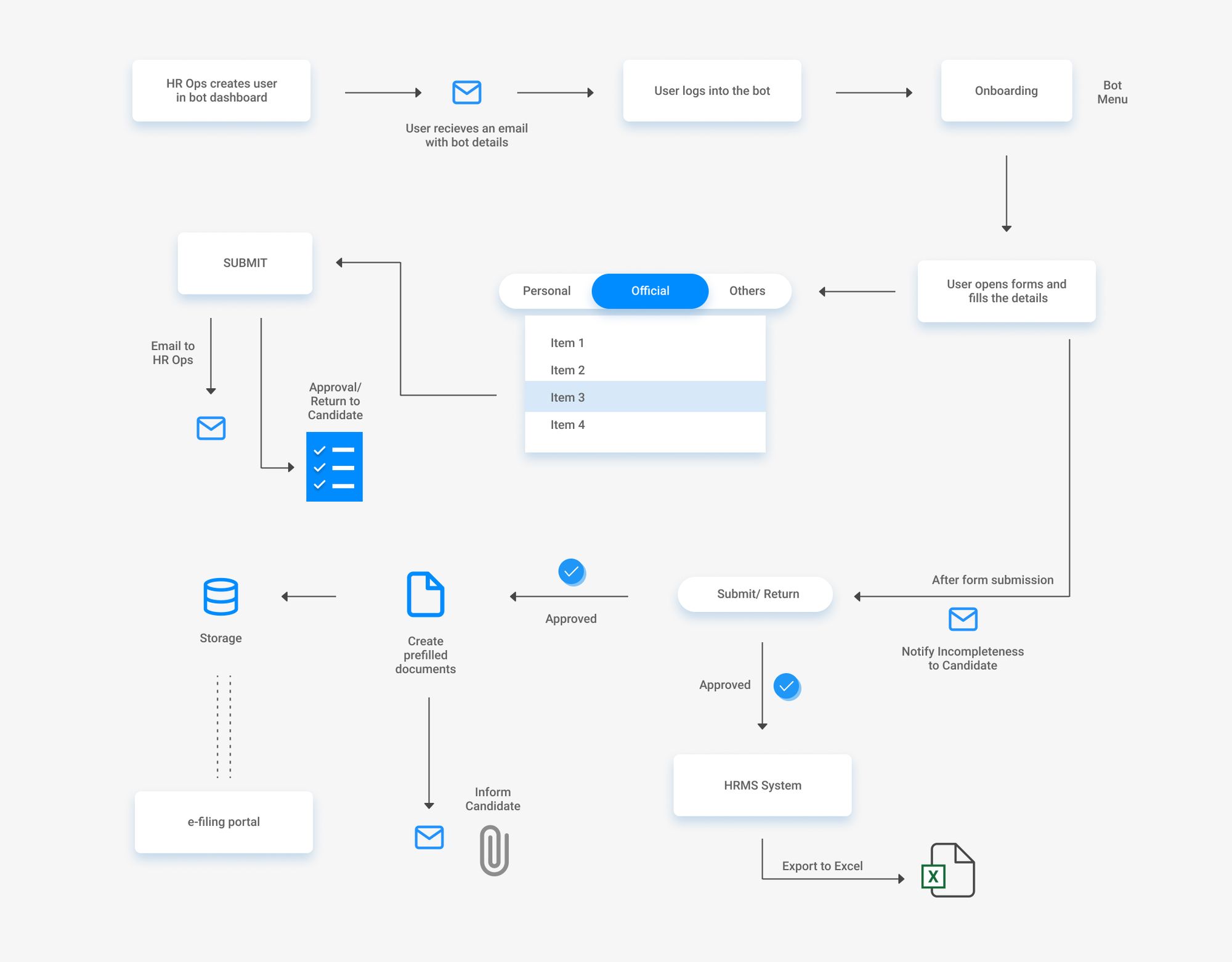 This integrated employee onboarding solution has reduced the organization's onboarding process time to one day while ensuring there are no follow ups required with the employees. This solution also ensures that all employee data and documents are available in the dashboard for future reference.
Onboarding automation can utilize webforms, eSignature tools, Optical Character Recognition and document extraction technologies to process and store incoming employee information automatically. This extracted data can then be automatically updated on your ERP, accounting and payroll systems.
You can also automatically place orders for software licenses and create user accounts for email and other applications like Slack, Salesforce and SAP, so your new employee is ready to log in on day one.
Automating IT migration to newer softwares
IT migration is the shifting of data or software from one system to another. To avoid compatibility issues, IT migration is usually done to start using newer versions of the same applications. In case an organization feels that the software currently being used by the team no longer provide all required features, the migration is done to start using another suitable application. Depending on the project, an IT migration could involve one or more kinds of movement: Data migration, application migration, operating system migration and cloud migration.
IT migration projects commonly involve many configurations that are highly specific to the organizations' needs. In an IT migration, automation can contribute to faster and smoother projects, reducing the errors that can result from repetitive manual processes.
"Organizations have a tremendous amount of 'collective' debt…. The cause is an extensive and expensive set of business processes underpinned by a patchwork of technologies that are often not optimized, lean, connected, consistent or explicit." - Gartner, Top Strategic Technology Trends for 2021
Faster operations, cost savings, reduced errors and better security are just some of the many advantages of using automation to accelerate and enhance your businesses IT operations. Get in touch with Quickwork to know more about automating your workflows.